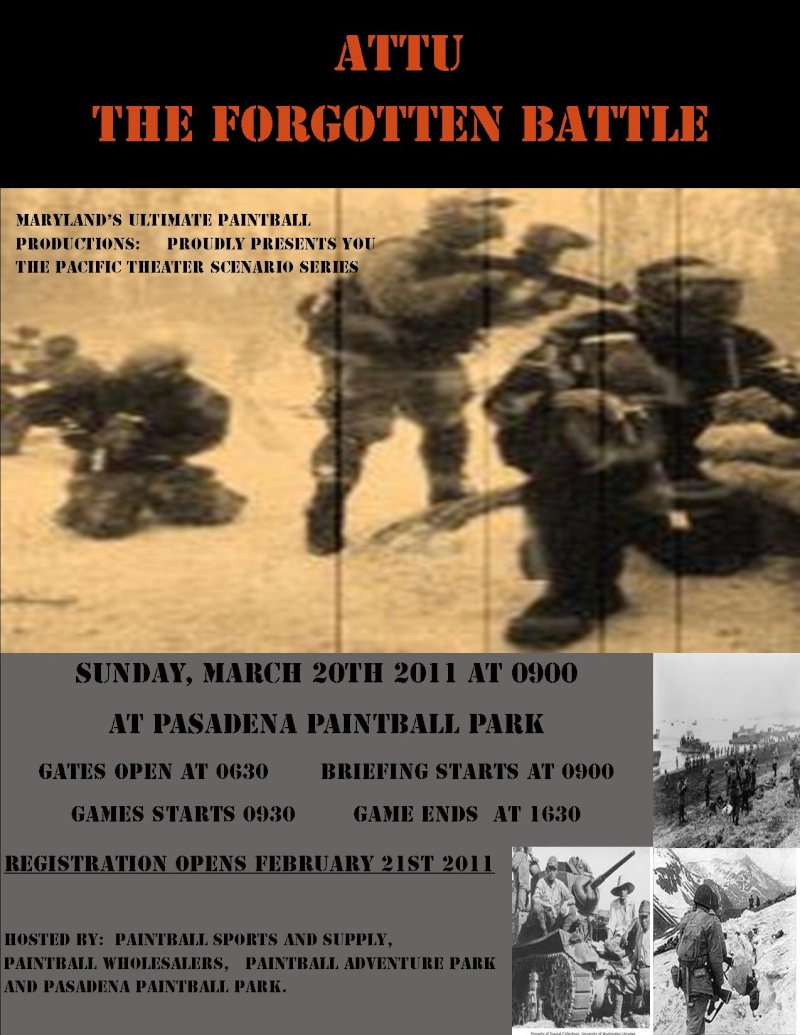 Paintball Sports and supply and Paintball Wholesalers are hosting the Pacific theater scenario series at Pasadena Paintball Park and Paintball Adventure Park. Produced by Maryland's Ultimate Paintball Productions team.
Pre-Registration Begins Monday the 21st of February and ends 15th of March
Prices:
Player 25.00 pre-registration
Quality RPS Paint 50.00 Pre-registration
Player 35.00 after pre-registration
Quality RPS Paint 60.00 after pre-registration
You can Register at: paintballwholesalers.com paintballsportsandsupply.com
Attu – The Forgotten Battle
The island of Attu. Not necessarily the most sought after vacation spot in all of North America in 1942, but for General Yamasaki in command of the 130th Infantry Regiment of the North Sea Defense Force, it is the gateway to victory against America. If the Russians Ally themselves with the USA, this island will serve not only as a barrier, but will also give the imperial army a foothold in which to launch many operations. In the first contact with the Aleutian defenses, the 130th Infantry Regiment successfully seized the islands of Attu and Kiska. After bitter fighting, the loss of Kiska to the island defenders weighs very heavily on the General's determination to hold the island of Attu until the last man.
When the islands were seized, Attu's population took to the wilderness to observe the invaders. Observation being their best means to determine whether to welcome the invaders, or begin a campaign of guerilla warfare. Also taking shelter in the wilderness of Attu, are two US radio operators whom were stationed at the islands only military outpost.
As an Allied response to the invasion of the Aleutian Islands, a group of scouts from the Alaskan Territory were recruited into the US Army. As experts in navigating and surviving in the specific harsh environments the population of the Aleutians deal with, Castner's Cutthroats became a force to bear upon the Imperial Army's Regiment. With victory on Kiska island, the Cutthroats are now tasked with liberation of the island of Attu, those whom inhabit it and rescue the two US radio operators